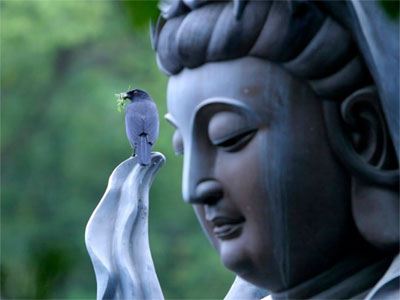 About Magnified Healing®
Introduced in 1992, Magnified Healing® is a wonderful technique for taking your healing experience and spiritual journey to the next level. Magnified Healing® was brought to us through Rev. Gisèle King and Rev. Kathryn Anderson by Lady Master Kwan Yin in order to assist us with our healing during these difficult times.
Magnified Healing® combines breath and energy channeling to connect and heal all parts of your being. This healing process clears chakras, rewires the nervous system, and builds the light body in preparation for ascension. It also scans and heals you, stimulating the calcium on the spine, which helps to heal your whole body.
Something amazing about Magnified Healing® is that it will actually replace the etheric energy-body around human organs. This speeds up physical healing and applies it to where it is most needed. The most valuable aspect of Magnified Healing®, is that it is a magnificent tool for healing karma. Healing our karma helps to eliminate negative cycles and patterns in our lives.
See the Magnified Healing® website to learn more.
Magnified Healing® Workshops
Prerequisites: A knowledge and understanding of basic metaphysical terms such as karma, spiritual centers (chakras), and openness to learn more about the Hierarchy, Three-Fold Flame, Violet Fire, Ascension. The Internet and spiritual books are excellent resources to learn about these concepts. Other healing or vibrational modalities such as Reiki, Light Touch, etc., are not prerequisites for learning the Magnified Healing teachings.
Magnified Healing® First Phase Workshop
LIVE In person with Myra Reichel, Master Teacher of Magnified Healing® of the God Most High of the Universe
This is a full 2-to 3 day workshop (minimum 18 hours of teaching plus allow additional time 1-4 hours for meals and breaks).
The official Magnified Healing® teaching manual is given to the students at the beginning of the workshop to read during the workshop but are not to be taken out of the classroom until you complete the two-day class. On the second day, you will receive the Initiation, the official Magnified Healing® certificate prepared by the teacher, a CD of the daily practice, and one bottle of Essence.
$300 In-person Fee: Only taught in person for students taking this workshop for the first time: Deposit in advance $100. Balance of $200 on first day of class.
partial scholarships available for classes larger than five students. 
minimum two students. Maximum 14 students for online class. 
This spoken, moving meditation transmitted to Gisèle King and Kathryn Anderson from Lady Master Kwan Yin is our next step to help ourselves, our family and friends, and the earth to heal.
Magnified Healing® Phase I class offered by appointment. 2 to 3 contiguous continuous dates weekdays or weekends by appointment with Myra at times to meet both of our schedules.
Once you have taken this class you can do the daily practice for yourself during which you can do Remote Healings for others and for the earth, as well as participate in any Magnified Healing® Celebration Ceremony without taking the accompanying workshop or to take the Celebration Ceremony Workshop and participate in Ceremony to become a facilitator.
You can teach this class after 11 continuous days of practice after completion of the course. All materials for your classes in USA must be purchased from www.magnifiedhealing.com or their agents in other countries.
After 4 months practice of Phase 1 you can apply to take Magnified Healing® Phase 3 training. 
Magnified Healing® First Phase Review
18 hours in-person and 16 hours online; 2-3 days
Come learn the Sacred Names and other information added since 2016.
in-person fee is $250 each for two or more students taking this two day workshop. $100 deposit and balance of $150 due the first day of class. 12 hours over 2 days if all are review students
This class is available for those students who already have their First Phase Certificate. 
Prerequisites:
Only for students who already have their First Phase Certificate.
First Phase Magnified Healing® Certificate Students who have been using the Sacred Names and have been teaching or received certificate 2016 onward, you need to request the registration form which will need to be filled out, provide copies of your First Phase Certificate, proof you have a CD or mp3 with sacred names, 2017 or more recent manual (2019 or more current preferred) signed on the date page of your manual, and a list of at least one student you have taught several months prior if you wish to apply to teach 1st Phase Review and advanced Studies class online. Prospective students need to do their practice assiduously for two months before taking the review class. It is recommended that you have taught at least one student before taking this advanced workshop.
Online 1st Phase Review and Advanced Studies Class
$160 Online (Space is Limited to 2 to 10 students).
This review class must be 14 or longer teaching hours divided in two consecutive days (7 hours of teachings each day plus coffee breaks plus lunch) or held over three consecutive days if you prefer. It may be possible to take this class in person.
We will be going over the correct hand positions and correct pronunciation of the sacred names, additional articles, and Sacred Geometry. We will do a complete review of the 1st Phase and study the Geometry of the 1st Phase and 2 articles on the Five Higher Bodies.
Prerequisite: You need to have the First Phase Certificate at least two months prior, have cd/mp3, and ideally have taught the First Phase Workshop to at least one student. There is another article. Student will learn information in the new articles. 
Please contact Myra at or 610-348-5698 for Registration Form.
Magnified Healing® Celebration Workshop
The Celebration workshop is a one or two day workshop which consists of the theory workshop (5-6 hours of teaching) and a Ceremony (2-4 hours depending on the number of guests) which is opened to the general public.  It is a sacred healing ceremony that Lady Master Kwan Yin brought to the earth in order to accelerate the healing of humanity and the earth and give us the awareness of our divine plan.   It is our gift to the community.
Prerequisite:  Magnified Healing® initiate 1st Phase plus 11 days daily practice.
You will receive the Official Celebration manual at the beginning of the workshop and the certificate prepared by the teacher is given at the end of the Ceremony.
$250 each for class of 7-10 hours, over one or two days, for 2 to 6 students
The first four hours of the class are preparation for doing all positions at a Magnified Healing Celebration® so that after completing this workshop by participating in a Magnified Healing Celebration® you will be able to teach this class 11 days after completion and facilitate your own celebrations.
About the Light Healing Practitioner Workshop
Please see the Magnified Healing® website for a description of the Light Healing Practitioner Workshop. 
Prerequisites for Third Phase 'Light Worker'
Fee: in-person only
if you have taken First Phase Review and Advanced Studies, and have your certificate, total fee is $325 for 2-2 ½  days ($100 deposit, balance $225)
For those who have not taken First Phase Review and Advanced Studies, the fee is $400 for 3 days ($100 deposit, balance $300)
To pay by check, please call or email me for the postal address. or 610-348-5698
After 4 months practice of First Phase you can apply to take the in-person Magnified Healing® Third Phase 'Light Worker' Workshop after completing an interview with the Third Phase Teacher. This is also a two-day workshop (8 hours per day). Prior to registering for the 3rd Phase 'Light Healing' Practitioner Workshop MH practitioners/teachers should:
Have taken the 1st Phase Review and Advanced Studies Class (online or in person). The Advanced Studies are part of the 1st Phase Practice/Workshop, so all MH practitioners/ teachers must take the Advanced Studies class to understand very well the geometry of the 1st phase and the meaning of the hands positions before taking the 3rd Phase practitioner workshop. The Advanced studies classes are often taught online, but they can be taught in person too.
Third Phase 'Light Worker' is taught in-person only. 
MH practitioners/teachers should do the MH 1st Phase practice for 11 consecutive days prior to this workshop. The first day of the workshop is the 12th day. (prerequisite)