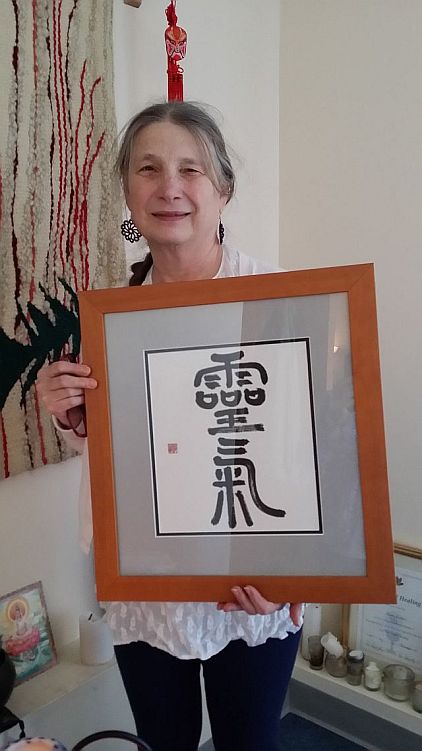 Myra Reichel-Shinpiden Reiki Master, Karuna Reiki® Master, Master Teacher Magnified Healing®: First & Third Phase and Celebration Ceremony.
Myra currently offers sessions, events, workshops and classes DISTANCE LEARNING over Zoom/Phone as well as sessions, workshops and classes LIVE in person at Heartspace, 215 West Baker Street, Media, PA 19063.
Myra first experienced Reiki in 1991 while a student at Bryn Mawr College with her education funded in part by a Grant from the Office of Vocational Rehab. After graduation in 1995 she became a Habitat for Humanity Construction Supervisor during which time she started Reiki training in 1998 at the Rose Tree Reiki Center with Marion Yaglinski, R.N. earning both Reiki Master, and Karuna Reiki® 2 certificates by 2004. In 2005, Myra completed Karuna Reiki® Master with William Lee Rand, founder of The International Center for Reiki Training. Karuna Reiki® addresses abuse, addictions, karma, and grounding issues during sessions.
Myra founded the Reiki Healing Center in 2006 to serve as a place for adults and children to learn about the power of Reiki (Spiritually guided life force energy) for healing and relaxation of the body, mind, emotions, and spirit. Reiki Healing Center especially supports those people dealing with chronic illness, pain, or other conditions.
More recently, Myra became a Shinpiden Reiki Master with Frans Stiene, co-founder of the International House of Reiki; she currently offers Reiki classes using their workbooks.
Myra also studied 3 Levels of Magnified Healing® with Sarah Hohenberger and she studied to become a Third Phase 'Light Worker" teacher with its founder, Rev. Gisèle King who, along with co-founder Kathryn Anderson, received this modality from Lady Master Kwan Yin. Myra especially loves this modality when she presents it for the public as a Celebration Ceremony where the practitioners guide the attendees through the daily practice which includes sending healing to our families and friends and to Mother Earth or while working on healing body systems using the Third Phase procedures.
For more information about Magnfied Healing® see the Magnfied Healing page of this website, and the official Magnified Healing page. 
Myra Reichel offers hour sessions of Reiki, Karuna Reiki®, and Magnified Healing®. Myra has held Community Reiki/Reiki Shares on 2nd Saturday s (will continue after Covid restrictions are lifted) and several times a year offers Magnified Healing® Celebrations. She teaches Reiki, Karuna Reiki® Classes, and Magnified Healing® Workshops. Myra also teaches Ethics and Holistic Practice Business Classes.
Myra offers Continuing Education contact hours for Nurses and CEU for Massage Therapists and Bodyworkers. Classes and Workshops are as scheduled or by appointment at Heartspace or online. 
Covid & Reiki Healing Center
I have changed most of my in-person sessions to either to phone or zoom or distance, remote, or absent healing which are actually stronger healing sessions than in-person, but people still prefer to schedule in person when possible. We are wearing masks during classes and sessions. 
I am teaching in-person when possible but teaching many more classes online and offering in-person attunements for my online classes when it is possible for the students to come in person. I have applied for and received approvals to teach my continuing education classes for nurses, massage therapists, and bodyworkers online.or more in